Embezzlement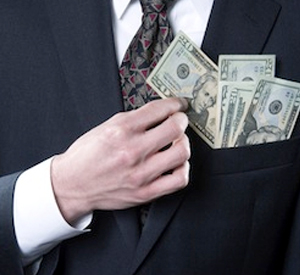 Like other Massachusetts theft crimes, Massachusetts embezzlement charges are made up of certain legal elements. Embezzlement is often a white collar crime, where someone is accused of misappropriating funds entrusted to him or her for personal gain.
While most all crimes are defined by the legal technicalities involved, the crime of embezzlement exemplifies this point very clearly. That is because embezzlement is almost identical to the crime of larceny by stealing - except for one major legal technicality, which is this: The person who is charged with embezzlement must have, as a legal prerequisite, been first in legal possession or rightful custody of the property, prior to his "stealing" it. Let's examine the legal elements of embezzlement, and the difference between this crime, and larceny, will become clearer.
The crime of embezzlement in Massachusetts, which is governed by Massachusetts General Laws Chapter 266 Section 30 is defined as follows:
For a defendant in this state to be convicted on a charge of embezzlement, the prosecution must prove that:
The defendant, prior to the larceny, had been entrusted with either possession or custody of property belonging to another, or that the defendant had occupied a position of trust over the money, assets or property in question. This is a prerequisite.
The defendant stole, concealed, or otherwise "converted" the cash, property or assets in question to his own, personal use without the consent or permission of the true owner. Exactly what "conversion" means will be discussed below.
The defendant had the requisite intent to permanently deprive the true owner of the cash or property in question.
Let's examine the above three elements step by step:
First, the defendant had to be in legal, rightful possession or custody of the stolen property. How does this come to be? Obviously (and most often,) this crime occurs in an employer-employee capacity. 99% of the cases I try as a Boston, Massachusetts embezzlement lawyer are cases where the defendant was either an employee of a company, and is charged with stealing cash, property or other assets of the company. While the easiest example to think of is a store clerk who takes money out of a cash register or safe for his own use, embezzlement can take place at a much higher level of employment, such as an accountant or chief financial officer of a corporation who is accused of stealing money from the company. Such higher levels of employment typically involve something known as a fiduciary relationship.
Second, it must be shown that the defendant took, stole, or "converted" the items to his own use without the consent of the true owner. What "conversion" legally means is that the defendant exercised "dominion and control" of the property - in essence, that he "took it over", such that the true owner no longer had any custody or control over the property. Some examples of the "conversion" of someone's property are selling the property, using the property for a long period of time, and also damaging the property. Sometimes, evidence of a loan can be brought forward, indicating that the owner of the property owed money to the defendant, and that the defendant's act of taking cash or property from the true owner was in fact repayment of that loan, not a "conversion" of the property to his own use. If this evidence is successful in persuading either a jury or judge that a debtor-creditor situation existed, and that the property taken was in fact taken with the owner's implied (or express) consent as a loan repayment, then the prosecution will not have satisfied this element, and a conviction cannot be obtained.
Third, it must be shown that the defendant was not merely "borrowing" the property in question, or taking it temporarily. The prosecution must demonstrate beyond a reasonable doubt that at the time the defendant took the property, he or she had the intent to permanently deprive the owner of that property.
To be rather simplistic about it, the crime of embezzlement can be boiled down to: "Rightful possession; wrongful conversion." To secure a conviction on a Massachusetts embezzlement charge, the prosecution must establish that the defendant acted with fraudulent intent. Therefore, as an example, if the defendant honestly believed that the property in question belonged to him, he could not be technically guilty of the crime of embezzlement. Now that you have read this page, it becomes obvious that the major distinction between the crimes of larceny and embezzlement is the specific manner in which the allegedly stolen property was obtained: With embezzlement, the defendant was already in rightful possession of the property in question; with larceny, from the start the defendant had no rights to possession of the property.
Massachusetts Penalties for Embezzlement
Interestingly, embezzlement in Massachusetts falls under the same statute as does larceny by stealing. As a result, the penalties for these crimes are equal to each other. Despite the fact that the elements of the two crimes differ from each other, a defendant convicted of embezzlement can the same sentence as a defendant who is convicted of larceny by stealing. As with the crime of larceny by stealing, the potential punishments hinge in large measure on the value of the property stolen. If the property value is more than $250.00, or if the property involved is a gun or firearm of some kind, the crime is classified as a felony, and the defendant is exposed to a maximum sentence of 5 years in state prison or up to 2 years sentence in county jail, together with fines reaching as high $25,000.00. If the property that is stolen is valued at $250.00 or lower, the crime is classified as a misdemeanor, and the defendant can receive a sentence of as much as one year in county jail or be fined to $300.00.
Boston, Massachusetts Embezzlement Attorney: Why hire the Law Office of Attorney William D. Kickham To Defend My Embezzlement Charge?
If you or someone you know is being investigated for or is charged with a Massachusetts embezzlement crime, that person is going to need to retain a talented and experienced Massachusetts embezzlement defense attorney - one who can demonstrate a proven track record of success in defending embezzlement charges in Massachusetts. To choose an attorney who only handles these cases "now and again" is a foolish decision, and anyone who does so, or who chooses an attorney based upon the lowest fee possible, is inevitably going to be sorry. In the legal profession as in any profession, "you get what you pay for."
Don't make that kind of mistake. While our fees aren't among the lowest, our talent is among the highest. We know how to aggressively defend Massachusetts embezzlement charges, and we can protect you from Day One. Call us 24 hours a day, seven days a week at Ph.: (781) 320-0062, or contact us online for a free initial consultation, and we'd be glad to let you know what your legal options are, and what we can do for you.
Westwood and Boston, Massachusetts criminal defense lawyer William D. Kickham has appeared as a legal analyst on a variety of respected media, including Court TV (now In Session on HLN,) Fox News TV-25/Boston, The Boston Herald, WBZ-AM Radio 1030, WCVB-TV5/Boston, Nightside With Dan Rea, Greater Boston With Emily Rooney, Money Matters Radio/Boston, and The Metro Newspaper/Boston. Attorney William D. Kickham is turned to by respected reporters and media organizations in Massachusetts as an authoritative expert in the field of criminal defense law, and the case results he produces for his clients attest to this. Call us today at office number (781) 320-0062, or Atty. Kickham's cell phone number at (617) 285-3600, to arrange for a free initial consultation of your case. If the matter is not an emergency, you can email us here and we will respond to you very promptly.