Indecent Exposure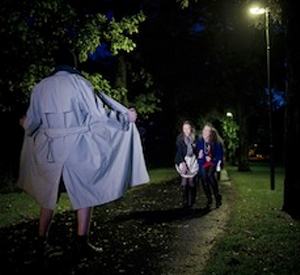 This crime is somewhat similar to, but not the same as, Open and Gross Conduct/Lewd and Lascivious Behavior – which is a more serious offense. The difference between the two is the category of offenses that each crime belongs to, and the different legal elements that make up each crime.
Indecent Exposure consists of the intentional exposure of one's genitals to one or more persons, causing offense to that person(s) in the process. It is irrelevant whether or not the exposure occurred in public or private, and the offense is classified as a misdemeanor. In order for a person to be convicted of indecent exposure, the Commonwealth must prove certain legal elements of this crime. Specifically, the prosecution must prove beyond a reasonable doubt that the defendant:
(1) exposed his or her genitals to one or more persons
(2) did so intentionally
(3) offended at least one person in the process
This charge is commonly brought when an intoxicated person urinates in public, in view of other people, or in cases of (sexual) exhibitionism. As an important legal technicality, a charge of "indecent exposure" cannot be brought forward if a person exposed his or her buttocks, female breasts, or pubic hair. The crime applies to genitalia only.
The main legal difference between the crimes of Indecent Exposure and Open and Gross/ Lewdness and Lascivious Behavior is that "Open and Gross" includes an additional element that the act must be committed in a manner that was designed to cause alarm or shock to whoever witnessed it.
Penalties
The punishment following a conviction of "indecent exposure" is less than what follows a conviction for Open and Gross Conduct/Lewd and Lascivious Behavior. As a misdemeanor offense, "indecent exposure" carries a maximum sentence of six months in a County Jail/House of Correction, and/or a fine of up to $200.00. Aside from the potential for jail sentence, the real risk to a defendant charged with this crime is the damage that will result to his or her name and reputation if a conviction results.
Your Choice of Defense Attorney.
If you someone you care about has been accused of or arrested for indecent exposure, lewdness and lascivious behavior, or any Massachusetts sex crime, an experienced Massachusetts Sex Crimes Defense Attorney is going to be needed. Do not hire an attorney who does not have extensive experience defending Massachusetts sex crimes, and don't "shop" for an attorney based on fees. At the Law Office of William D. Kickham and Associates, we have a history of producing superior legal results for our clients. Click on our Proven Results Page to see what just some of what our criminal defense clients have had to say about Attorney William Kickham. Or click on Attorney Kickham's Professional Avvo rating
Call us at Ph.: (781) 320-0062, or Ph.: (617) 285-3600, and we'll provide you with a free initial consultation. Or email us here for a free consultation. We will review all the allegations and the facts involved, and Attorney Kickham give you his direct opinion regarding your case. We will explain clearly what the weak or strong points in your case are, and we'll discuss exactly how we can help you. We will do all of this as part of a free initial consultation, and you'll be under no obligation from there. You have nothing to lose, and everything to gain, by calling us. The faster we can begin defending you in court, the better off you are going to be.
We appear before all District and Superior Courts in Eastern Massachusetts. Westwood and Boston, Massachusetts criminal defense lawyer William D. Kickham has appeared as a legal analyst on a variety of respected media, including Fox News TV-25/Boston, The Boston Herald, WBZ-AM Radio 1030, WCVB-TV5/Boston, Nightside With Dan Rea, Greater Boston With Emily Rooney, Money Matters Radio/Boston, and The Metro Newspaper/Boston. Attorney William D. Kickham is turned to by respected reporters and media organizations in Massachusetts as an authoritative expert in the field of criminal defense law, and the case results he produces for his clients attest to this. Call us today at Ph.: (781) 320-0062, or Ph.: (617) 285-3600, to arrange for a free initial consultation of your case. If the matter is not an emergency, you can email us here for a free initial consult and we will respond to you very promptly.